TOM SCHLESINGER
2-day seminar
DRAMEDY
Melodrama with Comic Overtones

PLUS

3-day workshop
CREATING ORIGINAL DRAMEDY FILMS AND TV
New Dates
Locations
Fees
Regulär: tba*
Ermäßigt: tba*

*) inkl. 19% Mwst.
Discounts
25% Rabatt für: Scriptmakers-Mitglieder im Profil "Heldenreisende", Mitglieder von AG Dok, VeDRA, WIFTG, EWA, MFFV, VDD und AG Animationsfilm, Film- und Medienverband NRW, Alumni von Serial Eyes und der Akademie für Kindermedien und Studierende.
Nutzen Sie die Bildungsprämie für unsere Angebote: Mit dem Prämiengutschein zahlen Sie nur die Hälfte der Kosten für eine berufliche Weiterbildung. Die andere Hälfte übernimmt der Staat. Informieren Sie sich: www.bildungspraemie.info.
DRAMEDIES:
the most sought after projects internationally
Think Little Miss Sunshine, Amelie, The Full Monty, Six Feet Under, Orange is the New Black and This is Us. Tears, laughter, pathos and box office success. When you join our seminar, you will learn the key storytelling strategies to write, produce and edit these powerful, cross-cultural stories that reach vast audiences on deep, engaging and heartfelt levels. Plus, you'll have the opportunity to network with other industry professionals.
2-day seminar
DRAMEDY:
Melodrama with Comic Overtones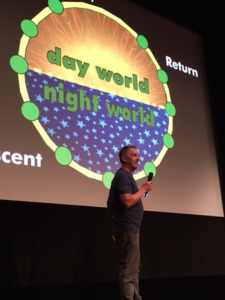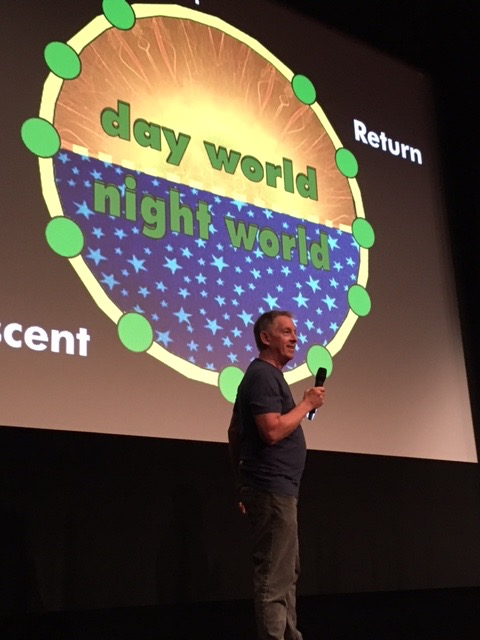 YOU WILL LEARN THE SECRETS OF HOW TO:
…connect emotionally to your audience through relationship arcs.
…orchestrate your characters to dramatically reveal your theme.
…Collaborate more efficiently and effectively with your team.
…Craft the unique Heroine's Journey story structure for dramedies.
Through lecture, film clips and interactive sessions, you will experience a series of transformative creativity exercises that will give you the insights, inspiration and know-how to generate emotionally satisfying film and television.
DURING THIS SEMINAR, YOU WILL:
…gain storytelling strategies to immediately apply to your projects.
…feel encouraged and confident as you move from script to screen.
…capture the creative blueprint in your Storytellers Playbook.
Exclusive 3-day hands-on workshop
CREATING ORIGINAL DRAMEDY FILMS AND TV
In this hands-on, experiential workshop you will learn the creative, innovative, and dramaturgical skills you need to create original dramedy films and TV series. Utilizing a series of improvisational, storytelling, and creativity exercises, you will create a concept for a new dramedy film or TV series. By working in a collaborative writers room environment, you will have the opportunity to develop a synopsis that captures the passion and commercial potential of your project.
Day One: Generate the character webs and themes
Day Two: Developing the relationship and plot arcs through Story Constellations
Day Three: Complete your Synopsis via Visioning, pitching, writer's room and instructor feedback
You will leave this three-day workshop with the confidence to create and develop successful dramedies, along with the seeds for a new, original dramedy for film and television.
Tom Schlesinger
Tom Schlesinger writes and consults on successful film and television projects internationally. He teaches storytelling workshops at Pixar Animations Studios, Lucasfilm, the Red Bull Media House, the International Film School, the American Film Institute, the DGA and the WGA. He is currently under contract with Sunrise Films in Toronto to write two feature film dramedies.
Testimonials
"Tom's wisdom and inspiration guide me on every screenwriting journey."
*****Pamela Gray, screenwriter, (A Walk on the Moon with Diane Lane, Music of the Heart with Meryl Streep, and Conviction with Hilary Swank)*****
"Working with Tom is worth it's weight in gold!"
*****Paul Saltzman, filmmaker, Prom Night in Mississippi, with Morgan Freeman*****
"He's a great teacher!"
*****Caroline Link, writer-director of Nowhere in Africa, Academy Award winner; Beyond Silence, Academy Award nominee*****
"Tom is the best, full stop!"
*****Daniel Speck, award-winning screenwriter and best-selling novelist, Bella Germania*****
"Toms Kosmos des Storytelling ist mir schon lange bekannt und es war eine Freude zu erleben, wie er seinem Tun treu geblieben ist – und damit wundervolle Gedanken freisetzen kann für die eigene Schreibe der Teilnehmer. Natürlich ist es eine 'Theorie' unter anderen, aber mir persönlich gefällt dieses konsequente Nachspüren der Inhalte, was man eigentlich erzählen will, durch die 'psychologischen Instrumentarien' des Erzählers am allerbesten. Außerdem ist Toms unerschütterlicher Optimismus, dass ein echter Storyteller tun muss, was er tun muss, ohne sich verbiegen zu lassen, seit Jahren mein leuchtendes Vorbild, mich für Geschichten zu öffnen, die mir nicht diktiert werden, sondern die sich gerade deswegen von mir finden lassen wollen."
*****Georg L., Deutschland*****
Kontakt
Alexander Lauber
+49 (0)152.24 47 36 83
seminare@scriptmakers.de
Anmeldung

Online registration coming soon…